Perdana Botanical Garden
+ Address:
Jalan Kebun Bunga, Tasik Perdana, Kuala Lumpur
Previously known as Taman Tasik Perdana, it is situated in Kuala Lumpur's Heritage Park. Regarded by many to be the city's green lung, this garden has a rich history of more than a decade. Created originally as a section of a leisure park, planted with tropical plants' collection but now has been transformed into a Botanical Garden. Despite being right in the midst of the bustling Kuala Lumpur, it provides visitors with the ambience of being inside a tropical rainforest. List of amenities and facilities include shuttle trams, bicycle rental, gazebo, cafe, toilet, surau, parking area, amphitheatre, boat rides, etc.
Admission is free.
Garden Overview

The garden spreads over acres of lush green land. It is a landscaped garden with trees all over. Pavements and walkways are provided for the guests to walk through the greens. The lush green lawn offers ample space for the visitors to sit and rest.
Petal-Shaped Shelter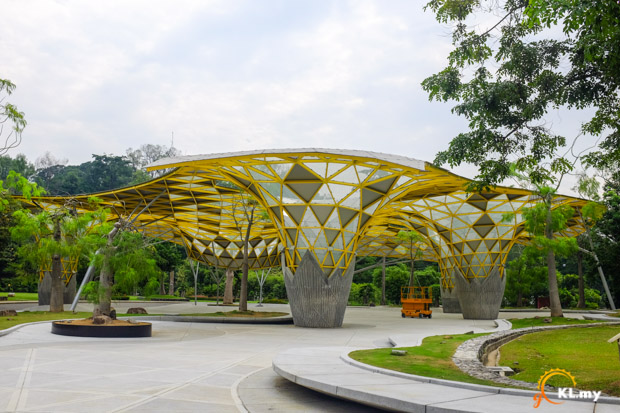 The garden has a big shelter which is structured in the shape of petals of a flower with concretized floor.
Perdana Lake
The most beautiful and serene part of the botanical garden is formed by the Perdana Lake. It is a large lake that has a centralized island with the bushes growing tall and spreading like an umbrella.
Smart Gardening
Nature has been made all the more beautiful with smart gardening at the lake garden. The trees planted along the walkways inside the garden are shaped and trimmed to resemble a complete troop of mushrooms.
Decking
The decking, built on the higher ground provides panoramic view of the garden.
How to get to Perdana Botanical Garden?
You can either get down at KL Sentral interchange or Kuala Lumpur KTM station and walk about 1km to the garden. Though it is nearer to walk from KL Sentral, it is advisable to avoid the route as you'll have to go across main roads that are always heavy in traffic.
Famous KL Location
Recommended Activity
Distance from Perdana Botanical Garden
Map
Compare hotel prices and find amazing discounts